Marine Discovery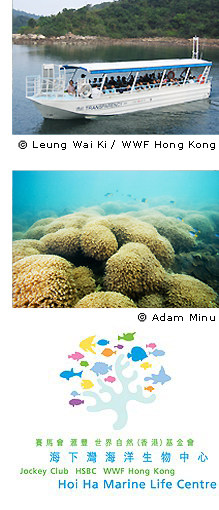 Beautiful corals, clear blue water teeming with fish....Although it sounds like an advert for a holiday destination, parts of Hong Kong were very likely once like this two hundred years ago. Although it is now more famous for its skyscrapers and dense urban jungle, some of Hong Kong's marine heritage is intact.
Join us on a journey to discover Hong Kong's lost world of marine life. On your way, you'll meet some flower animals (otherwise known as corals) that you can see from our glass-bottomed boat and ancient rocks that were made from the eruptions of volcanoes a very long time ago.
There are three stages of the programme: pre-visit; site visit and post-visit. To ensure you get the most out of your "Marine Discovery" visit, don't forget to click the "PRE-VISIT" button below.